CD Christmas with Bohemia Voice
We will deliver the CD 10 days following the purchase. Just click and order.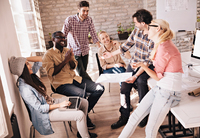 Bohemia Voice publish their first CD called Vánoce s Bohemia Voice (Christmas with Bohemia Voice) in mid November 2018.
1 Jingle Bells according to Barbra Streisand 2 Christmas Time Is Here - Christmas standard 3 Padá sníh (Let It Snow! Let It Snow! Let It Snow!) 4 When You Believe from the movie The Prince of Egypt 5 Má přání k Vánocům (Grown up Christmas List) 6 Nella Fantasia, music to Gabriel's Oboe from the movie Mission 7 Amazing Grace ( My chains are gone) 8 Tichá noc (Silent night) 9 Breath of Heaven (Love to the God from Virgin Mary on her way to Bethlehem) 10 God Bless Us Everyone from the movie Christmas Carol 11 Země má (Goin´home) from the symphony From New World, part Largo
From idea to stage
How the four different personalities got to one stage
Few years ago Elin Spidlova wanted to create a quartet, which would mix several genres but interpret them all using belcanto technique. She founded a world unique vocal group singing so called cross-over, style deleting the limits among opera and other music genres.
Their target is to draw attention to the high quality of Czech music, composers and arrangers.
Concerts
Have a look where we sing and come to the concert
17th December 2018 at 7.30PM
Christening of the CD Christmas with Bohemia Voice
Evangelický kostel Sv. Martina ve Zdi

14th December 2018
private company concert

11th December 2018 at 7PM
Barbra Streisand and Ella Fitzgerald celebrate birthday
with the Philharmonic orchestra of Hradec Králové
19th November 2018
Tribute to Broadway melodies of L. Bernstein and A Day in New York, Bohuslav Martinu Philharmonics, Zlin